<![if !vml]>

<![endif]>
<![if !vml]>

<![endif]>
<![if !vml]>

<![endif]>
<![if !vml]>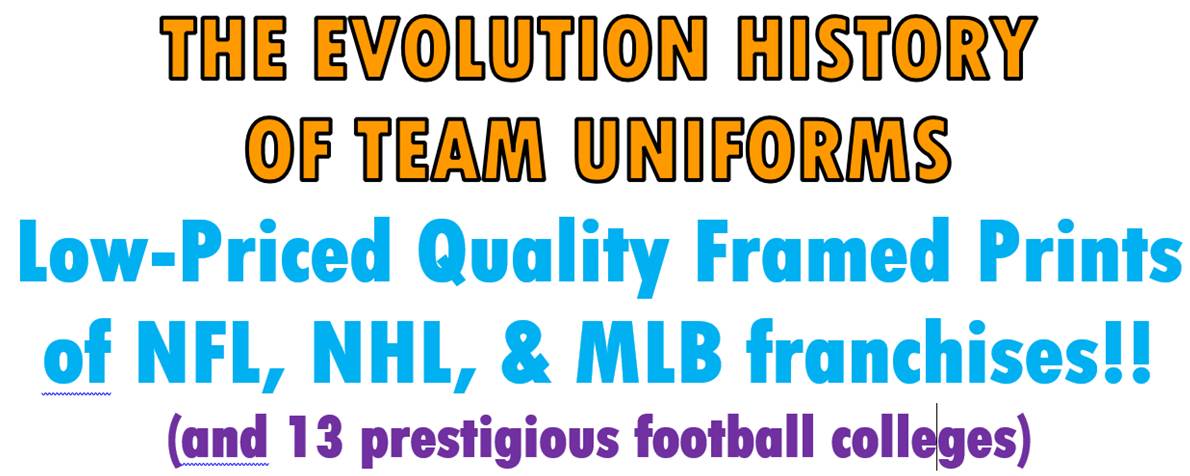 <![endif]>
Starting at $29! 
(Please note the prints used for the 3 framed versions are the same size.)
<![if !vml]>

<![endif]>
Version 1: Framed and Double-Matted.  It measures 12 ½" x 22 ½".
Only $49 each & $6 one-time shipping for your entire order!!
<![if !vml]>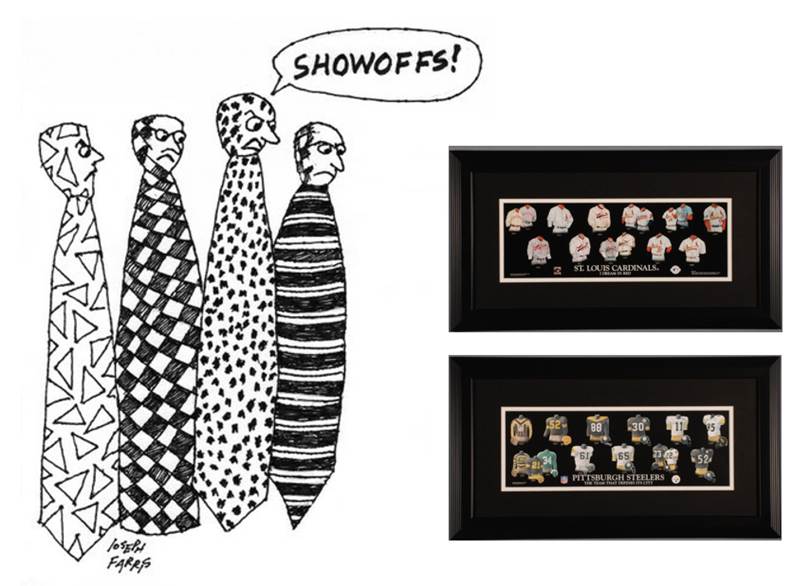 <![endif]>
Version 2: Framed with no mats.  It measures 5 ½" x 15 ½".
Only $29 each & $6 one-time shipping for your entire order!!
<![if !vml]>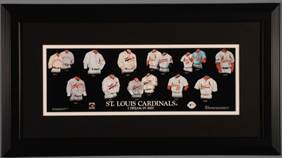 <![endif]>
Version 3:  Personalized!  Framed and matted with an opening in the
mat to easily add your photo.  It measures 12 ½" x 27".
Only $79 each & $6 one-time shipping for your entire order!!
When it comes to knockout gifts …
<![if !vml]>

<![endif]><![if !vml]>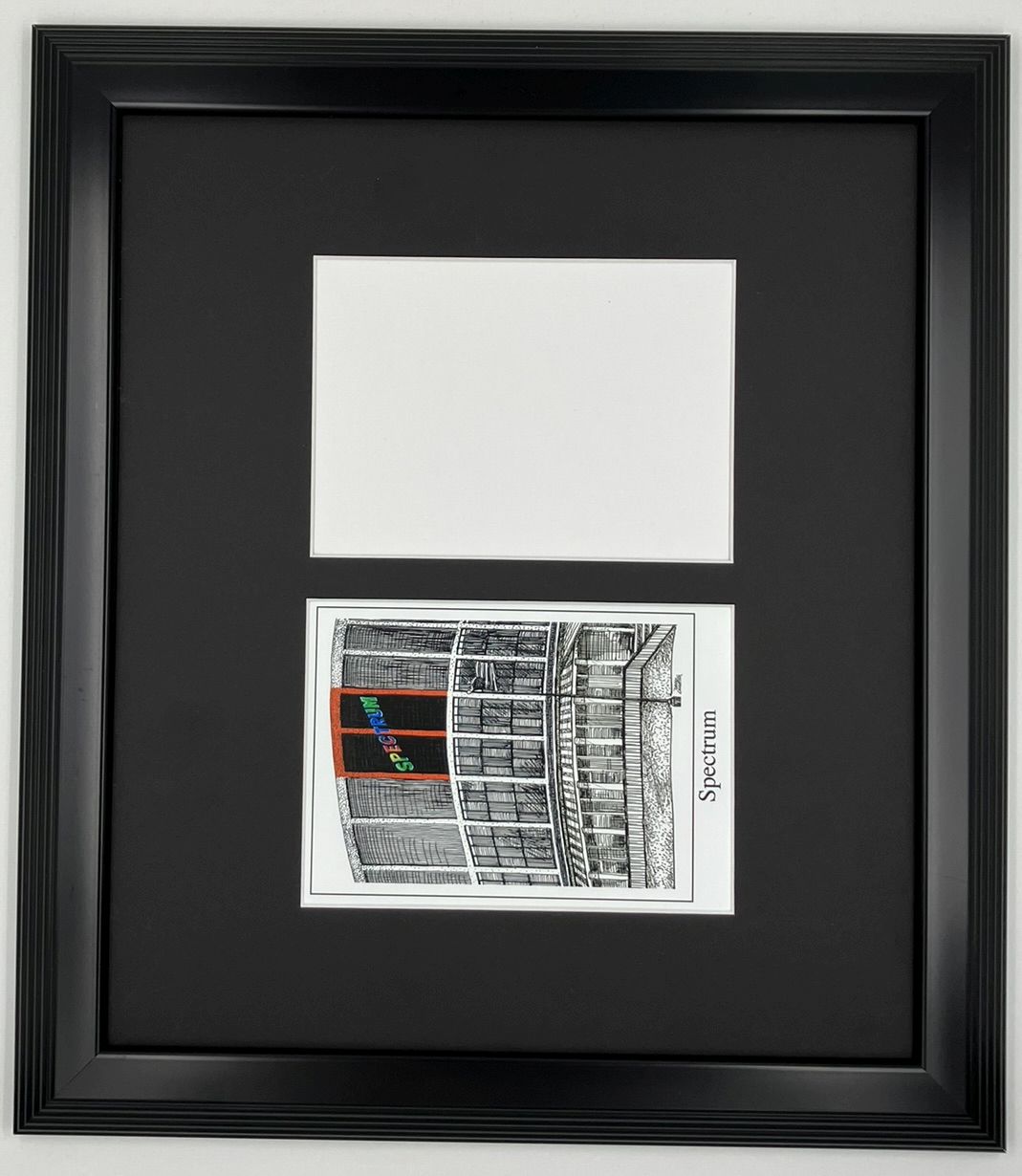 <![endif]><![if !vml]>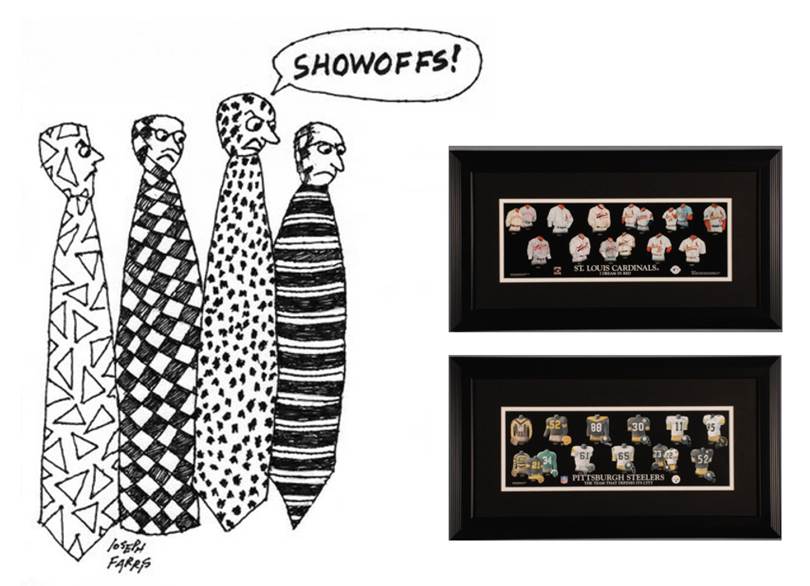 <![endif]>
Our framed uniforms have few peers.
*Our ties drawing was done for us by The New Yorker magazine cartoonist Joe Farris
The Greatest-Scapes is the exclusive source of this stylish and detailed print series of classic uniforms and venues.
Your Team's Family Tree. Bask in the Majesty!
Your team's history is a part of you.  Here is your team's identity--its distinctive colors, logos and uniforms … the uniforms of favorite and great players, famous games, legendary performances, championship seasons.  And from a personal standpoint, here are the uniforms of the very first game your father took you and of your youth, the jerseys you bought and wear, the celebrated games you attended, the uniforms of the trading cards you collected.  It's rare for someone to play an entire career with the same team … but a franchise's uniforms are forever.  Moreover, any of these uniforms can be revitalized as Throwbacks--and many already have!   By virtue of lore, memories and throwbacks, a team's uniforms never die.
Please note the uniforms on each print are displayed chronologically and the uniforms of the entire franchise are represented.  (Thus, for example, Brooklyn Dodger and Los Angeles Dodger uniforms appear together.)  In addition, some of the uniforms are shown with commemorative patches applicable to that particular year (for instance, Super Bowl, World Series and Stanley Cup Final patches).  At the end of many franchise entries, you will find a fascinating history of the franchise and its uniforms.  We now present your team's uniforms.  Bask!
Ordering Options:  You can order by Shopping Cart, telephone, mail or fax.
You can also purchase these at AMAZON.COM.  Just type Greatest-Scapes uniforms in the search box for our 80 framed uniforms prints—or Greatest-Scapes personalized for our 80 framed personalized uniforms prints.  Or you can be specific by including the team city and nickname—for example, typing Greatest-Scapes Chicago Cubs.  We have a perfect 5-star Amazon customer feedback rating.
You can also type Greatest-Scapes ballparks or Greatest-Scapes venues for our NL & AL framed ballpark prints and our NHL  and Chicago framed venue prints.
Please note all credit card orders and money orders are promptly shipped within 24 to 72 hours. 
*************
For the past five years our entire product line has been available at AMAZON.COM.  Unfortunately,
AMAZON is currently having technical difficulties with some of our product displays.  We apologize for this
inconvenience—and we hope for a  quick solution.
In addition, typing in specific team names to quicken your AMAZON search is not working.  You can only type The Greatest Scapes in the Amazon search box, which will bring up the majority of our uniform prints that are accurately displayed.
***We also offer framed NCAA "Evolution History of Team
Uniforms" prints of 13 prestigious football colleges.
(NASCAR Click Here to see 3 rare Classic NASCAR prints)
<![if !vml]>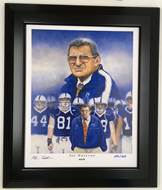 <![endif]>

CLICK ON your favorite teams or leagues or venues

from the list of 85 below:

Second Homes … Pittsburgh (Pittsburgh Sports Venues) NEW!

The Hockey Six (NHL Original Six Franchise Venues)

Second Homes … Chicago (Chicago Sports Venues)

NL Original Eight Franchise Uniforms

AL Original Eight Franchise Uniforms

NFL Uniforms of Oldest Franchises

AFL Original Franchise Uniforms

NHL Original Six Franchise Jerseys

NHL The Next Six Franchise Jerseys

NHL New Kids on the Block Franchise Venues

Philadelphia Flyers (no longer available; see instead "NHL The Next Six Franchise Jerseys")

 

 

<![if !vml]>

<![endif]><![if !mso]>

<![endif]>

The Greatest-Scapes is an accredited business of the Better Business Bureau.  We have been a member of the Better Business Bureau since 1986, and we have an A+ rating—as well as a perfect 5-star Amazon customer feedback rating.

For more detailed information about The Greatest-Scapes, please click the BBB Logo at left.

<![if !mso]>

<![endif]><![if !mso & !vml]> <![endif]><![if !vml]>

<![endif]><![if !vml]>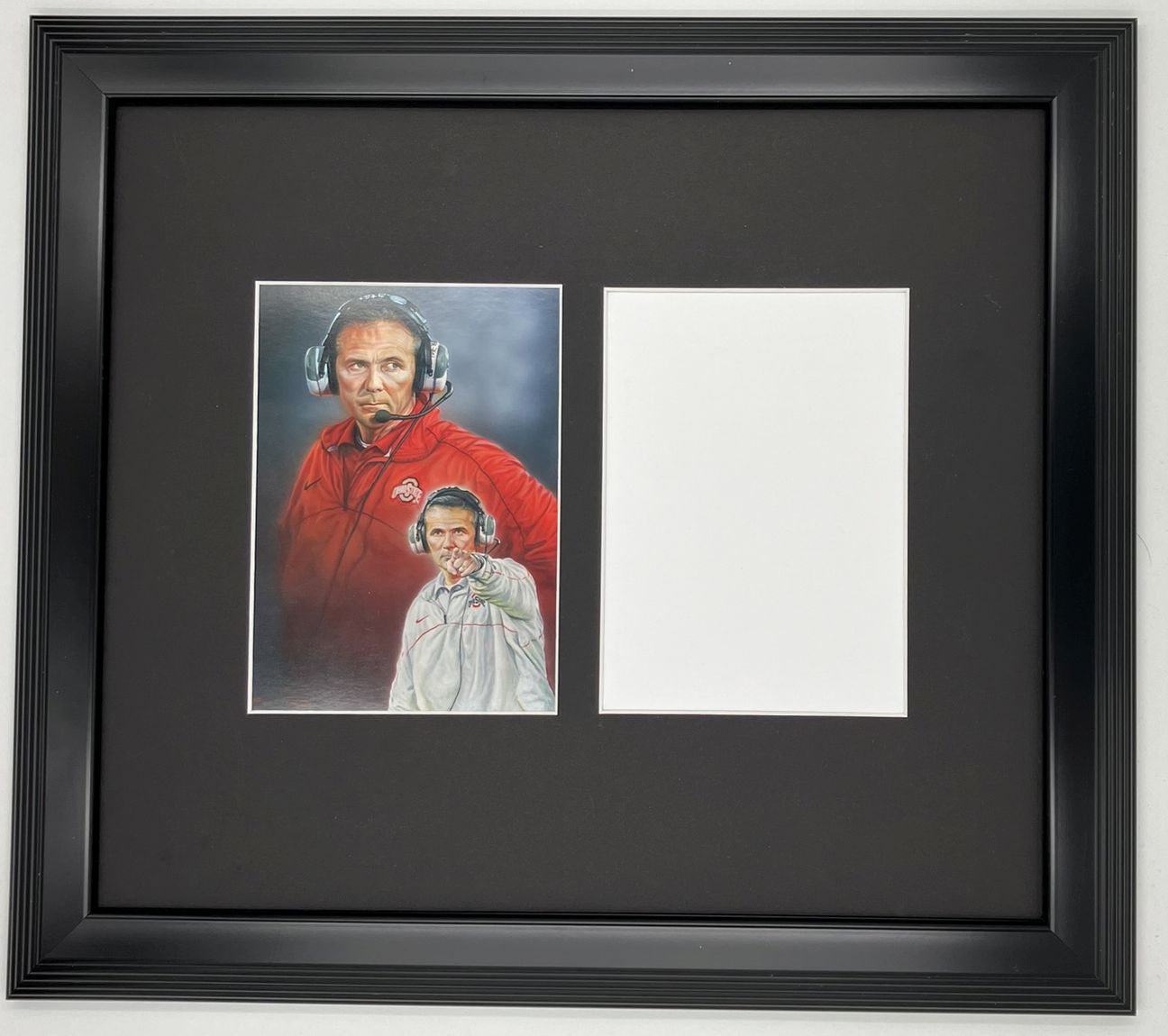 <![endif]>
Your Fan-mily Tree
"When I put on my uniform,
I feel I am the proudest man on Earth."
<![if !supportLists]>- <![endif]>Roberto  Clemente
"There is something special about the baseball
uniform, a mystique that is hard to pin down."
- National Baseball Hall of Fame
"I bleed Dodger blue."
<![if !supportLists]>- <![endif]>Tommy Lasorda
<![if !vml]>

<![endif]>

<![if !vml]>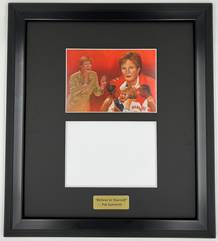 <![endif]>

<![if !vml]>

<![endif]><![if !mso]>

<![endif]>

Click Here for 3 rare NASCAR classic prints of Dale Earnhardt Jr., Jeff Gordon and Tony Stewart with their iconic cars!

Click Here for over 300 unique fine art prints of NFL, MLB, NBA, NHL, Golf and College sports greats.   If any interest you, please e-mail us at greatestscapes@hotmail.com for prices.  You can also telephone us toll-free at 1-800-786-3022.

<![if !mso]>

<![endif]><![if !mso & !vml]> <![endif]><![if !vml]>

<![endif]><![if !vml]>

<![endif]>*****************************************************

\

     

<![if !vml]>

<![endif]><![if !mso]>

<![endif]>

The Greatest-Scapes is an accredited business of the Better Business Bureau.  We have been a member of the Better Business Bureau since 1986—and we have an A+ rating.

For more detailed information about The Greatest-Scapes, please click the BBB Logo at left.

Thank you

<![if !mso]>

<![endif]><![if !mso & !vml]> <![endif]><![if !vml]>

<![endif]><![if !vml]>

<![endif]>
<![if !vml]> <![endif]>
1-800-786-3022
1-412-781-3022
E-mail: greatestscapes@hotmail.com
Click here to go to our home page